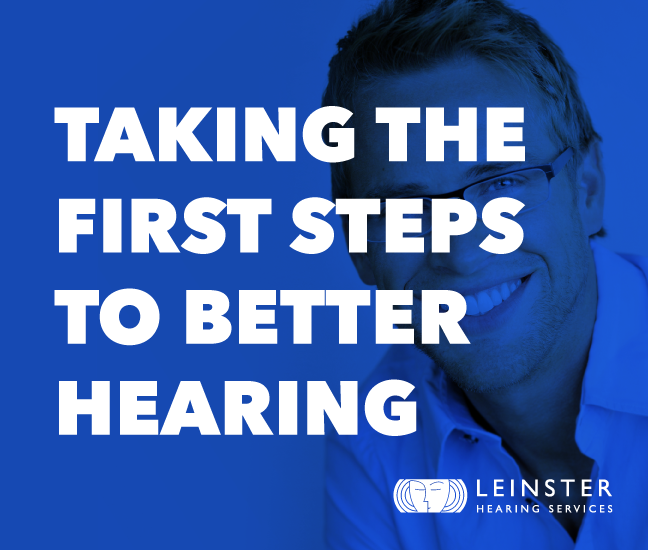 23 Jul

Taking the First Steps to Better Hearing

Taking the First Steps to Better Hearing

If you suspect that you or a loved one is having ongoing difficulty with your hearing then the first step is to have your hearing evaluated by a professionally qualified specialist who is specifically trained in evaluating and managing hearing loss . At this appointment the type and degree of difficulty will be determined along with its impact on your ability to communicate .  Leinster Hearing Carlow will conduct this consultation Free of Charge .

At the appointment we may determine that your hearing loss is medically treatable for example you may be suffering from an ear infection or simply have a wax blockage . In cases such as these you will be referred to your GP for treatment .

Permanent Hearing Loss

If , on the other hand , your loss is permanent then hearing instruments  may well be an option . It has been clinically shown that the vast majority of people with this type of loss can be assisted with the use of hearing aids . Your audiologist will discuss the various types of hearing aid designs , the latest technological advances and what can be expected from hearing instruments

. Leinster Hearing Carlow is a truly genuine independent which means they offer a wide selection of the worlds latest and best hearing instruments . Modern hearing aids utilise very sophisticated technologies to deliver excellent sound quality . They are practically invisible and are very comfortable to wear . Most now come with very convenient integrated rechargeable batteries and are connectible to mobile phones and TV's .

The causes of permanent hearing loss

The vast majority of permanent hearing loss is sensorineural ie it affects the inner ear . The main cause is presbycusis also known as age related hearing loss affecting one in 3 people over the ages 65-74 .It typically affects both ears and develops over a long period of time . Many people with sensorineural hearing loss report that they can hear but cannot understand speech .

Another major cause of permanent hearing loss is exposure to loud noise . Typically 15% of europeans between the ages of  20 and 69 suffer from noise induced hearing loss (NIHL) . Symptoms are very similar to presbycusis manifesting in louder than normal tv, constantly asking others to repeat themselves and an inability to understand speech in noise .

Home Trial

Leinster Hearing Carlow uniquely offer all their clients the opportunity of a Free Home Trial before any decision to purchase their hearing aids . No upfront payment or deposit is required . This enables their clients to experience hearing aids in their own " real world " environment helping them to make an informed assessment . We would strongly urge anyone thinking of purchasing hearing aids to insist on a free trial before parting with payment .

Grants and rebates

The department of social protection offers up to €1000 towards the cost of privately purchased hearing aids provided your supplier is a registered panellist . Eligibility criteria does apply ,  typically that the applicant or their spouse has paid the relevent prsi contributions during their working life ( The majority of people , including self-employed , now qualify for the grant ).

The applicant can be retired from work  and can make a new claim every 4 years .

As registered panellists Leinster Hearing Carlow handle all the necessary paperwork making it a very easy process for the client .

Aftercare

To get the maximum benefit from your hearing aids Local accessible aftercare is an absolute must . Just as your  eyesight changes with age , so does your hearing . However unlike your eyesight if your hearing prescription  changes you do not have to buy new appliances . Digital hearing instruments are reprogrammable so if your hearing changes  your new prescription can easily be downloaded to your existing aids .  This service is free of charge to all our clients . Another unique feature of our aftercare service is that in the event that your hearing devices need to be repaired or serviced by the manufacturer we will provide you with replacement devices for the duration .

Cost of Hearing Aids

Hearing aids costs differ widely across providers . The average cost worldwide for a pair of quality digital hearing aids is approximately €3000 . If you are eligible for the €1000 grant and can avail of the 20 per cent Med1 rebate this brings the cost down to around €1600 .

Best advice
If you are over 65 book a hearing test Today . Free of charge at Leinster Hearing Carlow
Ensure that your Audiologist is a member of ISHAA(The Irish society of hearing aid audiologists). That way you will be cared for by a qualified professional .
Try and deal with an Independent , preferably Irish owned . You will get a better level of personal service and the widest range of choice of manufacturers .
Make sure you get a Free trial without any upfront payment or deposit .
Finally make sure your aftercare is local and preferably from a dedicated hearing centre . Otherwise you may have to wait weeks to see your audiologist . Leinster Hearing Carlow operate the only dedicated hearing centre in Carlow Town and County .
TRY OUT THE ONLINE HEARING SCREENER ON OUR WEBSITE
Donal Keane FdSc HAA BC-HIS MISHAA