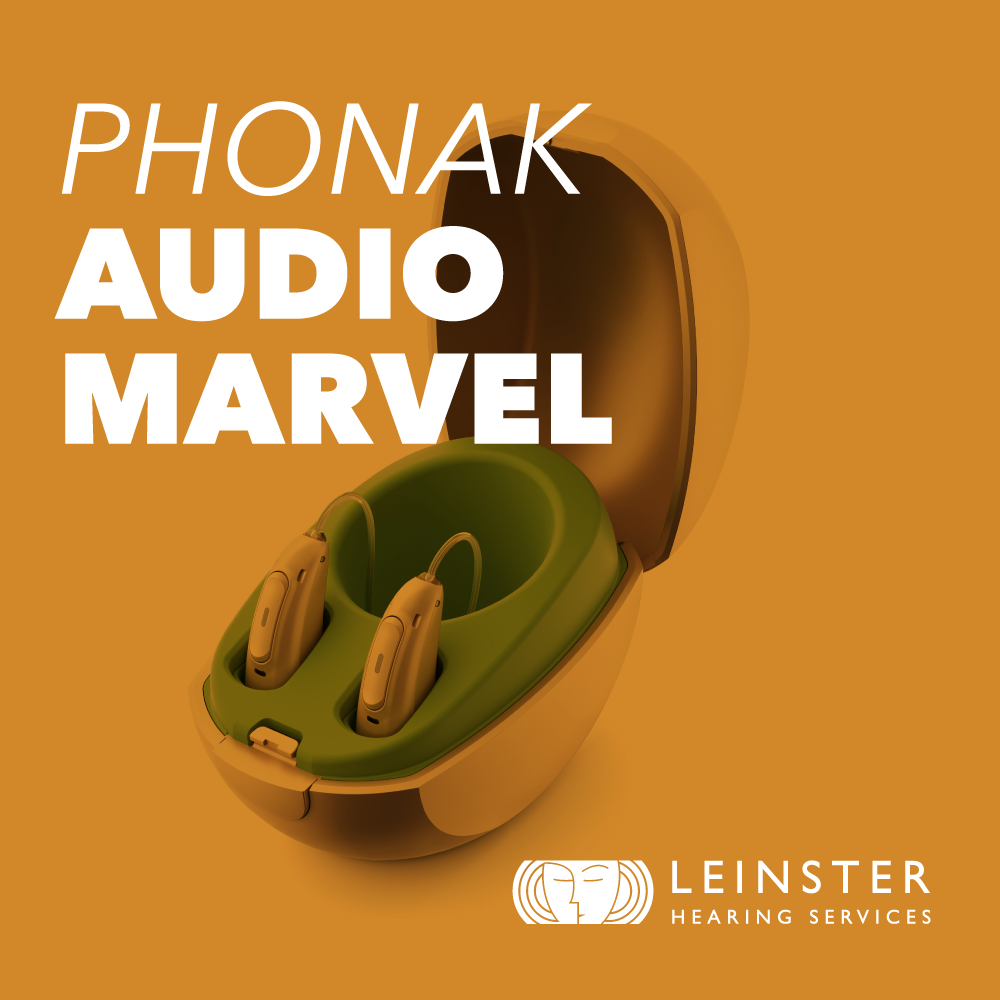 27 Jan

Introducing Phonak Audio MARVEL – The Worlds Best Hearing Device

Posted at 22:06h

in

Advisory

,

Athy

,

Carlow

,

Clinics

,

Donal Keane

,

Hearing Aids

,

Hearing Loss

,

Leinster Hearing Services

,

Pediatrics

,

Technology

,

Website

0 Comments

In 2019 Phonak MARVEL Hearing Instruments , developed by leading Swiss manufacturer Sonova , won no less than 4 major International Awards . The most prestigious of these was the Gold Stevie award for leading innovation in the consumer products category . According to comments obtained from the judging panel the MARVEL received top honours for being the first hearing aid to combine universal bluetooth connectivity , rechargeability and premium sound quality into a single device .
The AIHHP is the UK's professional body for independent hearing healthcare professionals . At their recent amusingly titled " Golden Lobe " awards ceremony the Phonak won manufacturer of the year with their MARVEL hearing devices winning in the categories of best premium level and best mid-level technologies .
These brilliant new Hearing Aids are now exclusively available to take on a FREE HOME TRIAL from Leinster Hearing Services Carlow Town .

Take FREE Home Trial
If you would like to take the MARVEL on a Free Trial just give us a call on 0599137670 or drop into our dedicated hearing centre on Staplestown Road (4 doors up from Carlow credit union) . We will carry out a hearing assessment and if you have a confirmed hearing loss we will program and fit hearing aids for you to take home to try out in your own environment . The trial period is usually for a period of 4 weeks at which time the devices will automatically switch off . At that point you return to our clinic where based on your own personal experience you can make a decision to purchase new devices or simply hand back the trial aids . There is NO CHARGE for the hearing assessment or the home trial.

Hearing Aid Prices
Your gift of hearing is priceless . At Leinster Hearing Carlow we provide a range of the worlds leading manufacturers Phonak , Unitron , Signia and Oticon . Our prices start per ear at €400 rising to €1520 for premium specification devices . These prices are net of the government grant of €500 per ear and the Med1 rebate . This grant is available to the majority of individuals (and their spouses ) who are currently paying or who have paid PRSI prior to retirement . If you are a current hearing aid user and have previously availed of the grant you normally become eligible for a new grant every 4 years . Please visit our website on www.leinsterhearingservices.ie where you can learn more information about us .

Leinster Hearing Carlow is an Independent Family Owned Business.