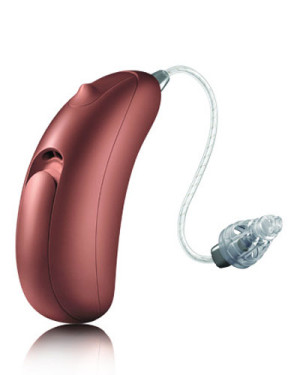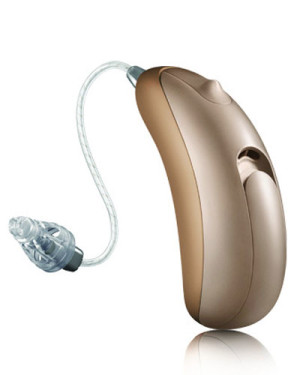 Company takes home third international design award for the forward-thinking Moxi product line
Unitron, a global innovator of advanced hearing solutions, today announced that its intuitive, functional and elegant new MoxiTM Fit has earned the prestigious Red Dot Award: Product Design 2015. The award marks the third major international design award for the Moxi product family.
Celebrating its 60th anniversary this year, the Red Dot Product Design Award is among the world's largest and most distinguished design competitions. To mark this special anniversary a "star studded" jury of international design experts evaluated 4,928 entries in 31 product categories from 56 countries. The jury included Danish fashion designer David Andersen, German materials expert Dr. Sascha Peters, Wen-long Chen, CEO of the Taiwan Design Center, Malaysian-born star designer Jimmy Choo, German product design icon Professor Werner Aisslinger, and tangerine founder Martin Darbyshire. The jury was charged with rewarding innovation, functionality, ergonomics, durability and ecological compatibility, among other criteria.
Moxi Fit combines style with intuitive functionality to give hearing instrument wearers control in a compact, comfortable and luxurious design. Its smooth, luminescent finish impresses in the hand while its fluid lines and small, contoured form wraps comfortably around the natural curve of the ear, and allows for the more discreet color to show when worn.
Moxi Fit features intuitively functional components that improve product handling. Wearers can easily control volume or select programs with the push of a button. Based on extensive user experience and ergonomic response testing, the location and shape of the button allow for intuitive use, even by people with dexterity challenges. The battery door is simple to operate and right/left markers are easy to identify. For clinicians, the programming port is easy to access and receiver wires are simple to install.
"As with all our product design, our goal with Moxi Fit was to remove patient barriers, specifically through Moxi's established reputation for style, comfort and easy functionality," said Andre de Goeij, Unitron's Director of Product Management and Product Marketing. "It is a testament to our user-centric design philosophy that Moxi Fit was recognized for achieving that rare feat of providing intuitive user control without compromising size or beauty."
Moxi Fit follows in the award-winning footsteps of Unitron's Moxi™ Kiss, which won both the Red Dot Award for Product Design in 2014, and the 2014 iF product design award.
Leinster Hearing Services are approved suppliers of Unitron's Moxi Fit hearing aids.
About Unitron
Unitron is a Canadian hearing aid manufacturer that is very committed to improving the lives of people with hearing loss and allowing them to enjoy all of the sounds of life through constant innovation, partnerships with leading research institutions in Canada and the United States and strong relationships with hearing health care professionals in their important work of helping people to hear better. Collaboration and innovation are key at Unitron.
Unitron has been committed to people with hearing loss for half a century. The company was founded in 1964 and is based in the Kitchener-Waterloo region in Ontario, Canada – an area often referred to as "Canada's Silicon Valley" for the technological advancements being made there. Untiron has offices in more than 19 countries with third-party distributors in 46 countries around the globe. Along with Phonak, it is one of the successful brands of the pioneering Sonova Group – a world player in hearing technology and advancements.
Sonova history
The Sonova Group was founded as AG für Elektroakustik" in 1947 in Zurich,Switzerland. However, after 18 years in business, the company's shares were purchased by Ernst Rihs. The company was then called Phonak, and it produced its first successful product in 1978: a hearing aid that had the highest level of amplification of any device on the market at the time. The company continued to grow and improve, and in 1985, Phonak Group became Phonak Holding AG and moved its company headquarters to Stafa, Switzerland.
In 1989, Phonak expanded to the United States, where hearing aids became more accepted due to the revelation that president Ronald Reagan wore them. Phonak Holding AG further established itself as a prominent brand. On August 1, 2007, the company changed its name to Sonova Holding AG after the steady acquisition of other brands and manufacturers, beginning with Unitron in 2000.
Today, Sonova Group is successful because it has a diverse brand and product portfolio. Not only does it sell a range of hearing aids under the Phonak and Unitron brands, but it also offers cochlear implants, an additional option that it could provide after it acquired Advanced Bionics in 2009. It also owns the Connect Hearing Group – a professional service network connecting hearing health care providers. The Sonova Group is committed to technological advancements and research under its main brands.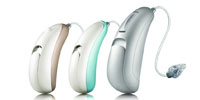 What sets Unitron apart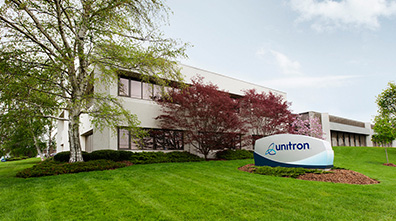 Technological advancements
Unitron is a global innovator that has along history of technological innovation, which may account for its status as one of the mosts successful and fastest growing hearing aid manufacturers in the world. Here are some of its technological advancements:
AntiShock™: This was the first technology on the market that could identify and instantaneously control sudden impulse noises without distorting environmental sounds or speech.
SmartFocus™: It is the first clinically proven advancement since directional microphones that allows people to better hear speech in noisy surroundings. Its importance lies in the fact that the No. 1 concern of people using hearing aids is that they have difficulty hearing speech with background noise.
Smart Alert™: This technology is the first fully integrated household alerting system that works with hearing aids.
Era platform: This 65-nanometer chip technology provides double the processing speed, memory and capacity than other devices on the market while still offering high-fidelity sound.
Academic partnerships
Unitron is very focused on collaboration to make advancements in hearing aid technology. It's currently working with many top universities and high profile researchers to advance hearing loss treatment:
University of Toronto
Unitron has partnered with Dr. Gurjit Singh at the University of Toronto to work on a way to program hearing instruments wirelessly for people in remote Canadian locales.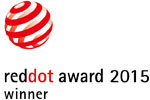 University of Western Ontario
Unitron is very involved with the University of Western Ontario. Currently, it is working on a five-year project with UWO's National Centre for Audiology, which created the Desired Sensation Level (DSL) formula for better fitting and programming hearing aids.
UWO is also working on the development of a center of excellence for hearing sciences, and Unitron was the only hearing device company invited to participate. Untiron has committed funding to the project and is working with their researchers. Additionally, Unitron is lent its devices and support to a UWO study on noise cancellation, speech enhancement and directional processing technology SmartFocus.
University of Iowa
Through a study of speech understanding, University of Iowa researchers found that an overwhelming majority of hearing aid wearers preferred Unitron's SmartFocus technology to a fully automated device because it gave them more control over comfort, clarity and flexibility of the device.
Carl Von Ossietzky Universität Oldenburg
Studies at Carl Von Ossietzky Universität in Oldenburg showed that Unitron's AntiShock technology was preferred by hearing aid wearers and addressed speech and transient issues effectively.
University of Rochester and Louisiana Tech University
Studies by the University of Rochester and Louisiana Tech University showed that people with hearing aids fitted with Unitron's SmartFocus speech technology were better able to hear speech in noisy environments than those wearing the same hearing aids that did not have SmartFocus technology. The study at the University of Rochester was replicated at Louisiana Tech University and showed a combined improvement rate of 16 percent for hearing speech in noise.
Giving back
One of Unitron's core values is "care deeply." The company cares deeply about making its advanced hearing loss solutions available to more people to improve lives. Thus, Unitron is involved in many philanthropic initiatives. One of its programs is sponsoring Can Do CAnines, which is a nonprofit that gives free assistance dogs to people who are deaf or severely hard of hearing. Unitron also donates behind-the-ear hearing aids and earmolds to Lions Infant Hearing Aid Loaner Bank, which is a program that supports children and infants who are newly diagnosed with hearing loss. Finally, Unitron has a scholarship program that awards a $1,500 scholarship to a Unitron hearing aid wearer so he or she can do well in school.